Discussion:
It's important to recognise that people living near road projects have also been devastated by many of the same forces.

The difference is that there has been a better legal framework for resistance developed over time. But that's largely because the FAA represents a single, recent constituency (the airlines starting in the 80's). The big tech companies are screwing people in exactly the same way now. It takes a long time for the law to catch up. America is based on a fundamental principle: build now, clean up later.

But administrations change. The DOT is generally less sensitive to those changes than most other cabinet positions. And it has always been the case that the SecDOT and the FAA Admin have tremendous authority by fiat. That's always been the frustration, of course--the fact that they -could- be fair almost with a stroke of a pen.

That said, perhaps this article is a good sign. Now is the time to channel the rage towards getting better organised. Challenge your City Council. Your County. Your State Reps. Now is the time.
Article Summary:
After the U.S. Department of Transportation asked the Texas DOT to halt a highway expansion, freeway fighters nationwide are calling on Secretary Pete Buttigieg for similar aid.
By
Laura Bliss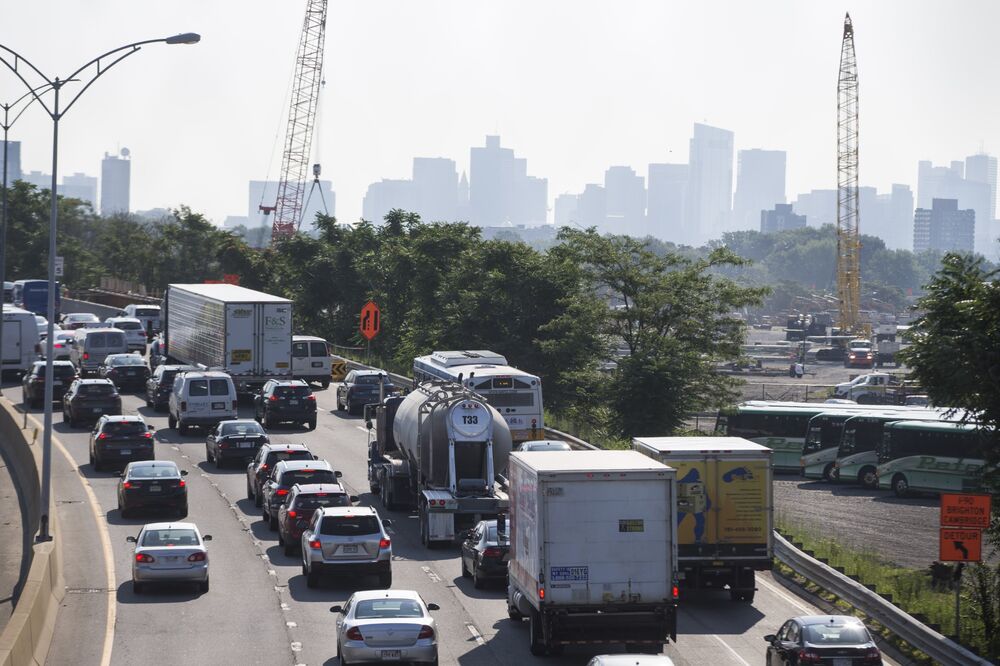 Last month, the U.S. Department of Transportation took an unusual step in its decades-long history of designing, funding and overseeing interstate highway projects: It told a state to stop building a highway project.
Namely, the North Houston Highway Improvement Project, a $7 billion plan by the Texas Department of Transportation to widen I-45 and parts of I-10 and I-610 on the downtown edge of the state's largest city. According to TxDOT's environmental review, the NHHIP would remove more than 1,300 homes, businesses, schools and places of worship. Much of the impact would land in low-income Black and Latino neighborhoods, some of the same ones the highway's original construction tore through in the 1950s and '60s. On March 6, the Federal Highway Administration (FHWA) wrote to TxDOT, asking that the state pause the expansion until federal officials determine whether "further actions may be necessary" to address "serious concerns" in letters by opponents that the project would violate Title VI civil rights law.
The move stunned people like Bakeyah Nelson, the executive director of Air Alliance Houston, who authored one of those letters in January. She'd hoped federal officials would be sympathetic, based on remarks by President Joe Biden and Transportation Secretary Pete Buttigieg signaling that the future of U.S. highways had to be rethought on climate and racial justice grounds. But she knew it was exceedingly rare for the U.S. DOT to formally intervene in a highway project outside the normal decision-making schedule, and that stepping in to stop a new road is antithetical to the agency's DNA. "We didn't know that response was coming," she said.
Now the national landscape of freeway fights is shifting, with activists, urbanists and researchers filling DOT inboxes with requests for similar action against road projects from coast to coast. Biden's $2 trillion infrastructure plan, which includes $20 billion to "redress historic inequities and build the future of transportation infrastructure," is  further encouraging highway foes that a new chapter in the story of U.S. road building has begun.
In Portland, Oregon, a letter sent March 30 by a grassroots group called No More Freeways asked Secretary Buttigieg "to take immediate action to address serious environmental and social justice issues" raised by a $750 million plan by the Oregon Department of Transportation to widen a 1.7-mile section of I-5, also through the heart of a historically African-American neighborhood. "Just as you did with the proposed I-45 freeway expansion project in Houston, we urge you to call a 'time-out' to take a closer look at ODOT's proposal," wrote Joe Cortright, a group member and economist who writes at the urbanism think tank City Observatory. On Monday, No More Freeways filed a lawsuit against ODOT over the methodology and transparency of the project's environmental review, which was finalized last year. (ODOT did not respond to requests for comment.)
Critics in Wisconsin are similarly asking Buttigieg to step into the fray of the I-94 East-West project, a $1.1 billion plan to add two lanes and rebuild six interchanges west of Milwaukee. The expansion was brought back from the dead last year by Governor Tony Evers after his predecessor, Scott Walker, shelved it due to cost concerns after years of project development. The Wisconsin Department of Transportation is reevaluating its old environmental review before issuing a new record of decision about the project. In a March 16 letter, 32 signatories including the Wisconsin chapters of the Sierra Club, the Public Interest Network and the ACLU call on federal officials to reject that course of action; citing environmental justice impacts and concerns about outdated data, WisDOT "must be required to prepare a new Environmental Impact Statement," they write.
Michael Pyritz, a regional communications manager at WisDOT, said in an email that the agency is in the midst of extensive public outreach. "We are working closely with our partners at FHWA," he said. "We will use all information gathered through our re-evaluation process to determine next steps."
But federal officials are also reaching an olive branch to the opposition. Stephanie Pollack, the acting administrator of FWHA, is scheduled to meet with Milwaukee highway opponents on April 9,  an agency spokesperson confirmed. Susanna Cain, a transportation research associate at the Wisconsin Public Interest Research Group, said she is hopeful that their concerns will be taken seriously, as in Texas. "We started this outreach to Secretary Buttigieg simply because his priorities were in line with ours," she said, citing the secretary's refrain that aging infrastructure should be assessed and reimagined  for the future before it is simply rebuilt. "This highway expansion would undermine what he's hoping to do — build better transportation systems that address climate change and provide better accessibility."
Still, it's not clear what it means when the federal government tells a state highway agency to stop the work it's supposed to do. On March 31, Nelson of Air Alliance Houston sent a follow-up letter to Buttigieg, asking that he ensures that TxDOT meets the federal government's call to pause the NHHIP, which is also now the target of an environmental justice lawsuit by Harris County. According to the letter, TxDOT has continued to contact residents along the I-45 corridor to negotiate property sales, even since the FHWA's intervention. "We request that you take whatever steps are necessary to halt TxDOT's continued efforts to negotiate acquisition of right of way, including any eminent domain proceedings, for the NHHIP, pending resolution of the civil rights investigation(s) and Harris County's legal challenge to the project," Nelson wrote.
TxDOT did not respond to questions about whether property negotiations were ongoing. "We are in contact with FHWA seeking clarity around what a pause might mean as far as timing is concerned for future contract solicitation efforts, and have no further comments on ongoing lawsuits or investigations," Adam Harris, a TxDOT media relations official, wrote via email.
Asked about how FHWA enforces such a pause, a spokesperson for FHWA stated that the original letter to TxDOT "is clear."
"It asks them to stop moving forward on the project to allow our investigators to complete their work," she said. "When Title VI allegations are made, DOT is obligated to investigate to better understand the situation so we can advise communities and state agencies alike on their options and suggested courses of action."
Even if the Texas expansion ultimately goes ahead as planned, USDOT's written request already represents a significant change in status quo. Since 2000, the federal government has poured from $38 billion to $54 billion dollars into U.S. highways every year. The vast majority went toward capital improvements and expansions, often with little accountability for projects that contribute to traffic fatalities or air pollution. While highway spending has declined as a share of the GDP since the 1960s, the types of projects that get green-lit have not changed much since the Eisenhower era, save for a handful of buried freeways with a park on top.
"There's been such an absence of a federal role on advancing infrastructure that really relates to what people want and how they live their lives, and that relates to resiliency," said Richard A. Dimino, the president and CEO of A Better City, a Massachusetts-focused urban planning and advocacy organization. Encouraged by Buttigieg's hints of support for highway teardowns, his group is now seeking the secretary's backing for an alternative for the $1 billion Allston Multimodal Project in Boston. Instead of replacing an aging viaduct along the Massachusetts Turnpike, they'd like to see an at-grade road that opens more access to the Charles River, walking and biking paths, and rail service. "I think without guidance, state DOTs will lean backwards, and I'm glad Buttigieg thinks differently."
Peter Norton, a professor of history at the University of Virginia and author of "Fighting Traffic: The Dawn of the Motor Age in the American City," called the TxDOT letter a "delicious moment" that he'd long daydreamed about.
"For over seven decades, state and federal transportation authorities have waged an unwinnable war on traffic congestion, claiming that delay to drivers is a public loss that must be fought at public expense," Norton said. "Our best hope is to stop playing this absurd game, and throw out the rulebook we inherited from the last 70 years. USDOT's decision gives me hope that at last, we may be doing just that."
(Corrects spelling of Richard A. Dimino in 14th paragraph. )